11 Essential tips to choose the right school for your child
Now it's the right time for a change. You believe that the school where your child is currently studying isn't suitable for him at all. You want a different school, a different education system, a different approach, a different country. Something else.
You want another experience for your child that will make him flourish, grow harmoniously, that will equip him with everything he needs for having a fulfiling life as a future adult. 96.5% of the thoughts that populate your mind are linked to this need for a change. It is not easy to find the right school for your child. And it's normal to be like that. But it is essential to start exploring options as soon as possible.
Here is a short guide for more clarity.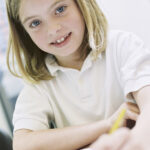 Without a doubt, this should be the first step. Before looking for the strong or weak points of a school, try to clarify what needs, interests and expectations your child has when it comes to schools. And what kind of student he is, what kind of environment would be most suitable for him.
It's absolutely necessary to find a balance between the atmosphere, the resources, the academic level of a school and the psychological profile, the interests of the child and his academic level.
The true journey of your child starts here.
Tips: First of all, make sure that you and your child are on the same page and that he wants this change as much as you do. You are together in this story, but the child remains the main character.
2. Language of instruction
Whether it's the mother tongue or a second language, your child's fluency in that language is essential. To be able to read without difficulties, to be able to have conversations on various topics, to think and dream in that language. Okay, I dreamed that I spoke fluent Russian at a quantum physics conference, and I can't even pronounce Bolshoi Theatre correctly when I'm awake. So it's not very relevant.
However, depending on the age of your child, a minimum level of command of the language of instruction is required (according to the Common European Framework of Reference for Languages, from A1 to C2).
3. Country of destination
You may think that the language of instruction goes hand in hand with the destination, but it is not. For example, schools, where pupils are taught in English, are spread all over the world. And I am sure it's the same with French, German, Spanish schools, and the list goes on. Switzerland is quite a special case, where there are schools with even 4 languages of instruction (Italian, French, German, English).
What is important, however, is your child's affinity with a certain culture. Affinity dictated by travel experiences, by the bands he listens to, by the interactions with native people, by the books he read, the movies he watched, by his values etc.
4. The educational system
Tips: Each educational system has pros and cons, but it is important that the chosen one fits your child. Why? Because the educational systems were designed keeping in mind certain students' typologies, in relation to the requirements of the labour market from a certain historical period. They are constantly being remodelled, going through reforms and trying to adapt to current needs. See the description of the most popular educational systems here.
5. Types of facilities, extracurricular activities and development opportunities
Your child has a lot to choose from.
The most common facilities and resources in private and independent schools abroad are: science laboratories with state-of-the-art equipment, impressive art departments, theatre with all the necessary resources for the production of shows and concerts, darkroom, multimedia laboratories, impressive libraries, swimming pool, sports fields (tennis, hockey, cricket, athletics, basketball etc.), IT centres, music rehearsal rooms, and the list goes on.
In terms of extracurricular activities, it's a challenge to make a full list, so I will stay short. Students can participate in many clubs of interest, whether we are talking about photography, astronomy, chess, creative writing or leadership, arts and orchestras or bands. The CCF, Duke of Edinburgh's Award, Model United Nations, Global Society programmes are widespread among these schools. In addition, there are programmes such as Student Investor Challenge, Young Enterprise, Mindfulness, activities for Social and Emotional Intelligence development.
6. What type of school is right for your child?
There are no perfect schools but, for every child, there is at least one suitable school. And the one you will choose together with your child will be the perfect school for him.
Among schools and high schools abroad, there is a wide range of typologies. Ethos, a predilection for certain fields of study, selectivity, approach to learning, the role of the student in the school community – all these set the tone for diversity. And they will be the topic of a separate article.
But here I will point out the typologies of schools, depending on the degree of selectivity, gender structure, educational concept and style. I will mention them briefly below, and here you will find detailed information.
Degree of selectivity:
Highly selective schools
Selective schools
Non-selective schools
Gender
Co-educational schools
Single-sex schools (all-boys, or all-girls)
Diamond schools (in the UK only)
Educational concept and style
Traditional Boarding Schools
College schools
Visit this page for more detailed information.
Multiculturalism is great, it's a celebration of humanity and it's a positive environment for the development of every child, from all points of view. But is there a better mix than another? There is no right or wrong answer, it simply depends on the type of experience that each child wants to have.
There are schools that fully celebrate multiculturalism and do not set maximum percentages that a certain nationality can represent. These express globalization in all its grace, as long as there are clear conducts and rules for respecting differences. Children learn about values here, about different perceptions of reality, about places which are far-faraway, and they learn to love the variety of foreign languages.
Another type of schools is the one in which the largest proportion consists of home students, about 50% or even more. As for the rest, nationalities are carefully mixed, maintaining maximum percentage, so that diversity keeps balanced. The children who lean towards this type of school, consider that this way they have all the chances to get to know and understand the culture in which they wanted to immerse.
8. Exploring schools through summer camps
Many of the independent schools abroad host camps during the summer brakes. They are an excellent opportunity to simulate the study experience in a particular school. In addition, depending on the type of camp and its timetable, the child improves his level of study, makes friends, becomes more independent, finds the source of enthusiasm and curiosity, and can study subjects from a certain curriculum or can test domains that are of interest to him (architecture, medicine, robotics, IT, business, arts, fashion etc.).
The costs of one year of study include schooling, accommodation, meals (full-board, half-board), most extra-curricular activities that take place on campus/school, clubs & societies, social events, study materials, access to academic resources of the school, career guidance etc.
The price dictates quality. Most often.
The quality-price ratio is reflected by the school facilities (laboratories, sports fields, IT equipment, music departments, arts, theatre etc.), the quality of teachers, the number of employees, academic resources, by the number of students in a class (depending on the subject and the year of study, there can be classes composed of 3 students, up to a maximum of 8, or can go up to 28 students), the variety of extracurricular activities…
Here you have more information, for a clearer picture.
Even if you consider that you have all the information about a school and your expectations are well-set, visiting it can offer you a completely different perspective. And if you have on your list more schools (to which your child has been accepted, in advance), I am sure you have a personal top of preferences. You will be surprised how it will look afterwards.
You will have the opportunity to interact with the teachers and the school management, you will see with your own eyes the entire campus, beyond the camera lens. Moreover, you will talk directly with the students of that school, measuring their smiles and the serenity of their faces.
11. Schedule a discussion with an educational consultant
You are one step away from getting in touch with a specialist who can offer you support throughout the entire selection and admission process for the right school for your child. I'm here.