In Canada, the federal government oversees education, while provincial and territorial governments have the role of developing curriculum and determining major education policies and initiatives.
There are similarities between the education systems of different provinces and territories, but each province / territory has its own curriculum reflecting the culture and history of the region.
As English and French are official languages, in Canada there are schools with English and French language tuition.
Education in Canada is compulsory for children aged 5/6/7 to 16/18 y.o., depending on the province or territory, and is divided into primary and secondary levels.
The grading scale is from A to F, where A = Excellent (90 ÷ 100), B = Good (80 ÷ 89), C = Average (70 ÷ 79), D = Poor (60 ÷ 69) and F = Fail (<60).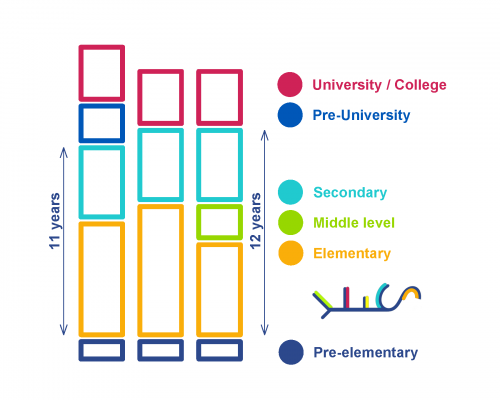 Elementary School
In the Elementary School, from grades 1 to 6 or grades 1 to 8, children study the same general subjects. 
The curriculum varies across Canada, but lessons include: English (French), Mathematics, History, Geography, Sciences, Health and Physical Education and Introductory Arts. Second Language is included in some jurisdictions. 
Middle Level
In jurisdictions where Elementary School is from grades 1 to 6, Middle Level is for students aged 12 to 14 (grades 7 and 8).
Students study many of the same subjects as in Elementary School, but the difficulty increases substantially.  Other subjects are also added to the curriculum, most notably foreign languages as French, Spanish, English (for Quebec students).
Secondary
In Secondary, mandatory subjects must be studied for a prescribed number of years or terms, as decided by each province / territory. These generally include English (French), Maths, General Science, Health and Physical Education, History and Geography. In addition, students choose optional subjects.
Upon successful completion of the secondary school curriculum, a Secondary School Diploma is awarded in all jurisdictions.
In Quebec, Secondary is from grades 7 to 11. After grade 11 students transfer to a Pre-University/ Vocational College for two or three years.
Canadian partner schools also offer: