In Switzerland, the 26 Cantons are responsible for compulsory education. This is the reason why the schools have different school calendar, education structure, curriculum, number of lessons per subject and teaching methods.
The Cantons and the Confederation are responsible for post-compulsory education.
The compulsory education starts at the age of 4 and last 11 years, or starts at the age of 6 and last 9 years (depending on the Canton) and includes:
8 years of primary level, including 2 years of kindergarten. (In Canton Ticino are 7 years of primary level);
3 years of lower secondary level. (In Canton Ticino are 4 years of lower secondary).
The language of instruction is dictated by the region where the school is located: German, French, Italian or Romansh. During the compulsory education, besides English, students learn a second official language of Switzerland.
The grading scale is from 1 to 6, where 6 = best grade, 4 = sufficient, below 4 = insufficient.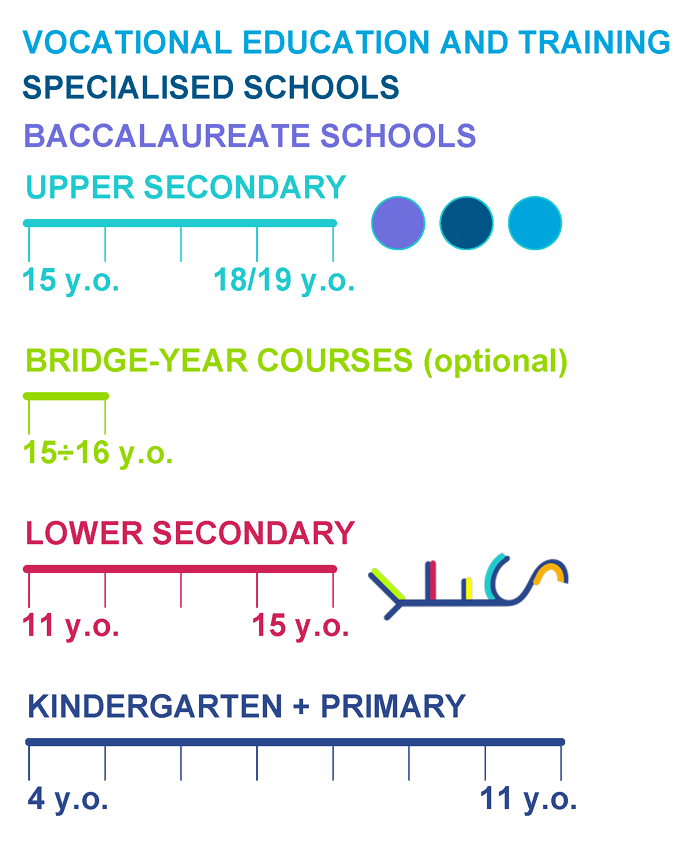 PRIMARY
LOWER SECONDARY
UPPER SECONDARY
PRIMARY
After kindergarten, students are studying:
Languages: language of schooling, English and a second national language;
Mathematics and Natural Sciences;
Social Sciences and Humanities: History, Geography, Ethics and Religions;
Music, Art and Design (Visual Arts, Textile Design and Technical Design);
Physical Education and Health.
The assessmet of students is different from one Canton to another but, the promotion to the next grade and the transition to the next study level, are based on student academic performance.
In generally, the transition from primary level to lower secondary level is made at the age of 11.
LOWER SECONDARY
UPPER SECONDARY