In Romania, the compulsory education starts at the age of 6 and last 11 years (grade 0 ÷ grade 10), but the school education does not end until the end of grade 12, and includes:
5 years of Primary School, grade 0 ÷ grade 4;
4 years of Gymnasium, grade 5 ÷ grade 8;
4 years of High School, grade 9 ÷ grade 12.
Our partner schools have developed enhanced educational programmes, including the intensive study of modern languages, transdisciplinary learning, non-formal learning activities, financial education, volunteering activities.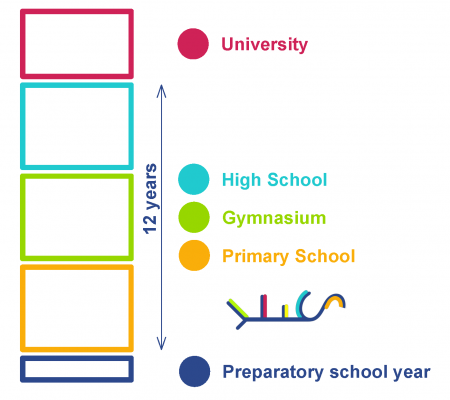 Primary School
In Primary School (grade 0 ÷ grade 4), students are studying:
Languages: Romanian Language & Literature and a modern language (English, French, German);
Mathematics and Natural Sciences;
Social Sciences and Humanities: History, Geography, Civic Education and Religion (optional);
Music and Arts;
Information and Communication Technologies (optional);
Physical Education, Sports and Health.
During the Primary School, students performance is evaluated with a qualitative mark: insufficient, sufficient, good and very good. 
Gymnasium
High School